This is a picture of a Embossed Robotic Skin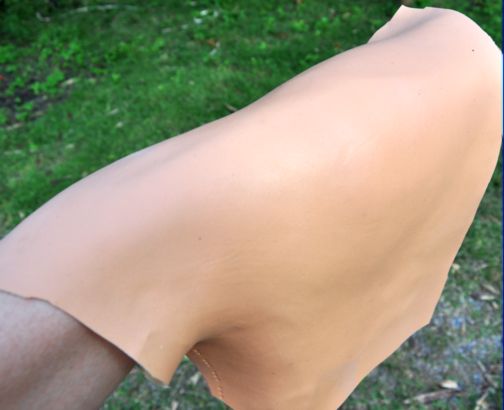 MakupArtist Robot Skin is unlike any skin for Robots in the world. Our cutting edge technology gives the potential for the most natural skin for a robot you will find. At MakupArtist we have managed to emboss a thin silicone rubber layer on the inner surface of our unique Foamex foam latex process to give you the ability to stratified different densities of silicone material under the skin to simulate muscle tissue. Most of you familiar with Robotics know that a majority of the skin now made for Robots uses silicone. Silicone is cold and rubbery. Our Foamex latex is as life like as it is possible for an imitation human skin.
Our unique process gives you the ability to cast sensors or even attach sensor webbing. In fact because of the inner embossed skin of silicone you can embed any sensor, instrument or even motorized functions as you wish, maintaining the outer skin of a soft life like material. All this with the ability to cast individual pieces in the desired shape and size and it is even possible to overlay seams for a seamless fit. Our design team of artists is available to take your project to the next esthetic and artistic level. What has been good for Hollywood is a natural match for Robotics. Please contact us for more information.